Eucalyptus oil's important role in respiratory maintenance may be able to help it make a mark in functional foods.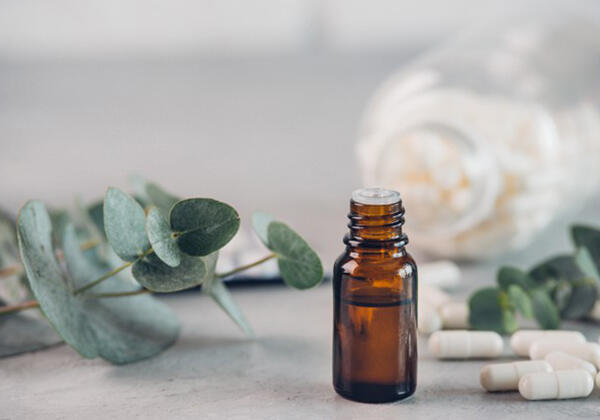 Eucalyptus oil is a plant essential oil extracted from the eucalyptus plant of the myrtle family. Its main components are eucalyptolide, rutin and other flavonoids and terpenoids, which have antibacterial, antioxidant, anti-inflammatory, osmophobic, insecticidal and mosquito repellent and anti-itch effects.
At the same time, the oil gland cells in the leaves of eucalyptus can secrete oil-like substances with special aroma, which are widely used in the pharmaceutical, daily chemical and flavor industries, and are one of the top ten essential oil species in the world. There are many kinds of eucalyptus, and the extraction components of different species vary greatly, so the use of raw materials is closely related to the species. For example, for medicinal use, we should use blue eucalyptus oil, forbidden edge eucalyptus oil, radiation eucalyptus oil, and raylin eucalyptus oil, which have a stronger bactericidal effect, and for flavor applications, we should use lemon eucalyptus leaf oil and blue eucalyptus oil, which have a strong aroma.
The export market for eucalyptus oil is mainly Indonesia, which has long been the top target market for eucalyptus oil exports, and the U.S. market has occupied the second target market for eucalyptus oil since 2015, but its total volume is only about a quarter of that of Indonesia, so the export volume of eucalyptus oil has basically remained at about 10,000 tons in recent years.
In 2017, LancetRespiratoryMedicine published a result from the 2017 Global Burden of Disease Study (GBD2017) describing the global burden of disease for chronic respiratory diseases from 1990-2017. The data states that an estimated 544.9 million people worldwide suffered from chronic respiratory diseases in 2017, an increase of 39.8% from 389.7 million in 1990, and the global prevalence of chronic respiratory diseases has reached 7.1%, making it a global health problem. Eucalyptus oil, on the other hand, is one of the effective ingredients to deal with respiratory problems.
Studies have pointed out that eucalyptus oil has a strong antiseptic effect, relieves colds, mucositis, coughs, allergies, bronchitis, influenza, throat infections, asthma and other problems, and plays an important role in maintaining the health of the respiratory system.
Upon inquiry, there are two important applications of eucalyptus oil in the food field, one can be used as a natural flavor for food and the other is developed as a health food for throat clearing and moistening.
Nowadays, the COVID-19 epidemic has raised the health maintenance of the respiratory system to a whole new level, and consumers are recognizing the importance of respiratory care. Eucalyptus oil's important role in respiratory maintenance may be able to help it make a mark in functional foods.
Disclaimer: Echemi reserves the right of final explanation and revision for all the information.